« Back to news list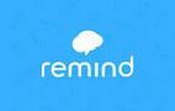 REMIND
Posted On: Thursday, June 14, 2018
Abbeville Elementary School is now using REMIND to help keep parents and guardians up-to-date about school, classroom news and assignments, etc. Remind is a free service that lets the faculty and administration send one-way messages via SMS, push notifications or email to everyone involved with the school or individual classes. Remind will keep your phone numbers private, while making it a lot easier to stay in touch about the school and class. Signing up for messages on Remind is a quick and easy process.
A few safety points regarding REMIND:
*There are no open replies to teacher messages on Remind.
*You will not be able to respond to any messages.
*All messages are recorded in case we need to reference them in the future.
*Your personal contact information is never seen by me or by the school.
*Messages from school or individual classes will be sent straight to your phone or email account.
To ensure that you are receiving the most up-to-date school wide information via REMIND, please contact Mrs. Grimsley-Dawkins, AES Guidance Counselor, via email, sgdawkins@henrycountyboe.org, or via phone, 334-585-3679 ext. 2001, for detailed information on signing up.