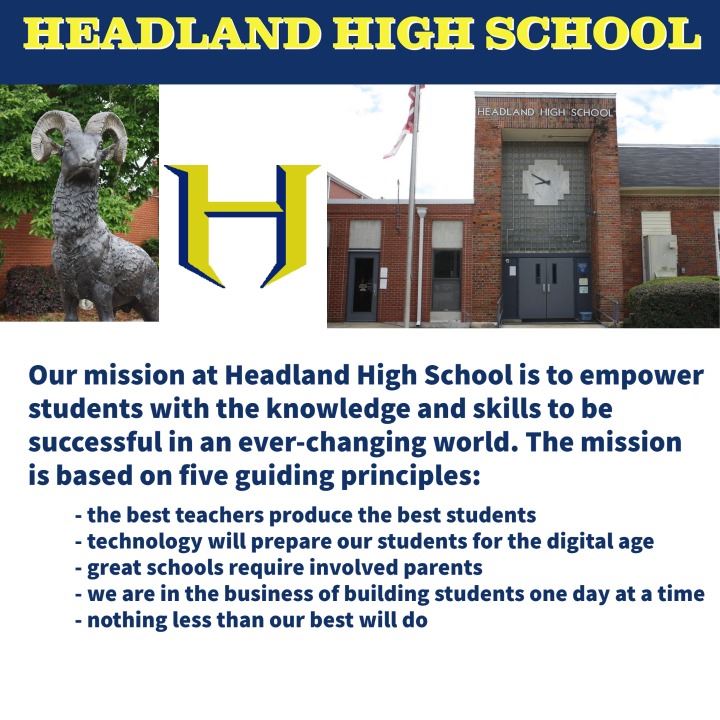 Welcome to Headland High School where every day is a Great Day to Be a Ram!

It is with great pleasure that the faculty and staff of Headland High School welcome you to our school's website, which provides you with the informational tools, and resources that our school has to offer. Here at Headland High School, we pledge to provide a quality education to all students that supports academic, emotional, social, mental growth in conjunction with athletic and service driven foundations. As you browse through our website, please take note of the wonderful components that make each of our students successful.

Our goal is to ensure our student's progress in their educational realm with the facilitation of learning that is engaging and innovative to productive leaders in our community and society. Each member of our faculty and staff vows to ensure students are prepared and knowledgeable to be successful as they venture out to contribute to the world. We here at Headland High School encourage all of the students to set goals, strive with determination, and achieve enormously. The key elements of P.R.I.D.E: Perseverance, Respect, Integrity, Discipline, and Excellence are the driving force of success for not only our students but also our faculty and staff as well.

Thank you for visiting our website. Please feel free to contact our school with any questions. GO RAMS!
Contact Us

(334) 585-7086

(334) 585-7087

Fax (334) 585-7088