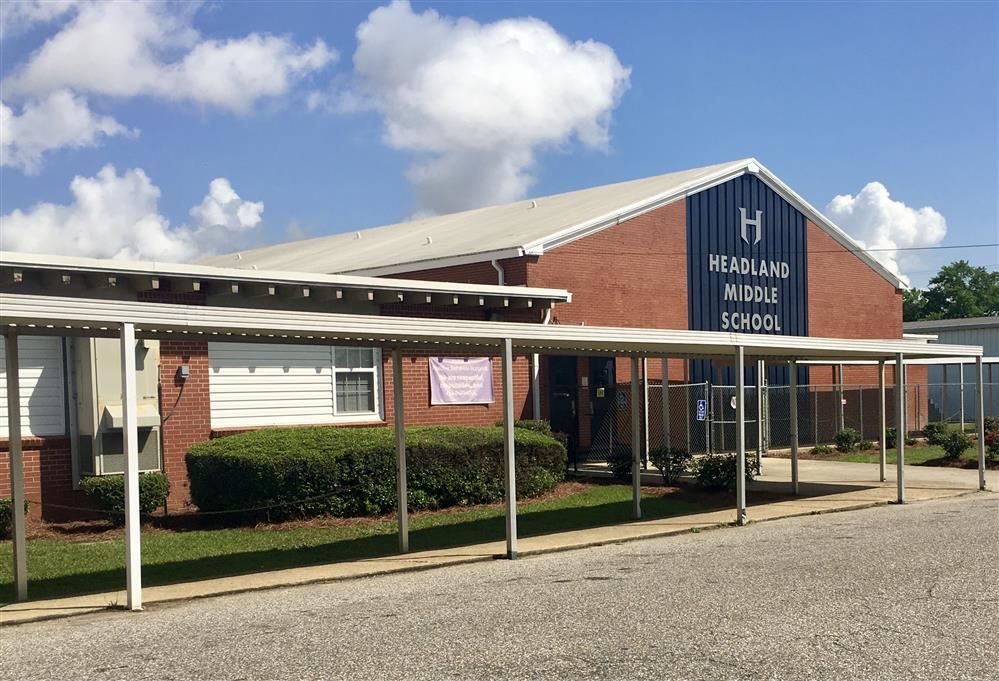 Headland Middle School Vision Statemment:

The vision of Headland Middle School is for each child to experience "success." We, at HMS, strive to provide a safe, child-centered learning environment where individual, developmental needs are met.
HMS Library Facebook page

9th Grade Remind and Facebook Page

8th Grade Remind and Facebook Page

7th Grade Remind and Facebook Page

6th Grade Remind and Facebook Page
CLICK HERE to check your student's INow Parent Portal

The STI InformationNOW Parent Portal is available to guardians. This tool allows guardians to view up-to-date information on their child's progress, grades, attendance, etc.

You must have a password (which changes every year) in order to access the website.
HMS will not be mailing this information to guardians.
Student will receive the attached form on September 29th. When students return the signed form to their homeroom teacher, the teacher will send the INow password home with your student.
Please follow the directions on the password form precisely to access your student's INow portal. If you have issues, please contact Mrs. Frank for help.

CLICK HERE to view or print the INow parent letter and form.
Contact Us

Phone: (334) 585-7083

Fax: (334) 585-7085
Anonymous Tips for Student and Parents

Khan Academy Free Tutorials

Math Practice with Immediate Feedback
Announcements
The HMS basketball teams are hosting their annual cheesecake fundraiser. Orders are due by Nov. 3rd and the cheesecakes will be delivered the week of Nov. 16th. These are perfect for your Thanksgiving gatherings. See Coach Trammell or any HMS basketball player for orders or more information.

Click on the link below to view the costume contest rules.

CLICK HERE to take our Title I Parent Survey. We appreciate your input.

Click above to view the slide show of the virtual Title 1 Parent Meeting.

CLICK HERE to print or view the PTO T-shirt and Membership form. These are due by the end of this week if you would like to receive the T-shirt. Please contact the office for more information.

INow passwords will be sent home with students this year. In order for your student to be allowed to bring home his or her INow password, the student MUST return the INow parent form letter. this letter will be sent home with students on Sept. 29th. It is also posted in the INow section of our homepage and at the bottom of this annoucement. If you wish to receive your student's INow password, please sign and return the form to your student's homeroom teacher.

CLICK HERE to view or print the INow parent letter form.

CLICK HERE to purchase an HMS yearbook for the 2020-2021 school year. They will be sold online only until Oct. 15th for $30. On Oct. 16th, the price will increase to $40, but you can purchase online and in person at the school starting on Oct. 16th.

CLICK HERE for great information that may answer parent questions about virtual learners and requirments, who to contact for issues, etc.

CLICK HERE to view the areas where our Henry County School buses will be parked Monday-Friday for students that need Wifi access.

Make sure when your child is absent...he/she must bring excuse upon return to school and turn in to Homeroom teacher. Your child also must ask teacher, when they get to that class, what their makeup work is. Thanks for your help at home!

VERY IMPORTANT*** Don't forget to be on the lookout for your student to bring their QR code sheet home to you on the afternoon of picture day. This is your direct link to access your photos. We highly recommend that you register IMMEDIATELY after receiving this code so you can be notified as soon as photos are uploaded. Picture proofs will NOT be sent home as in the past. Parents will view proofs and order school pictures using this QR code.