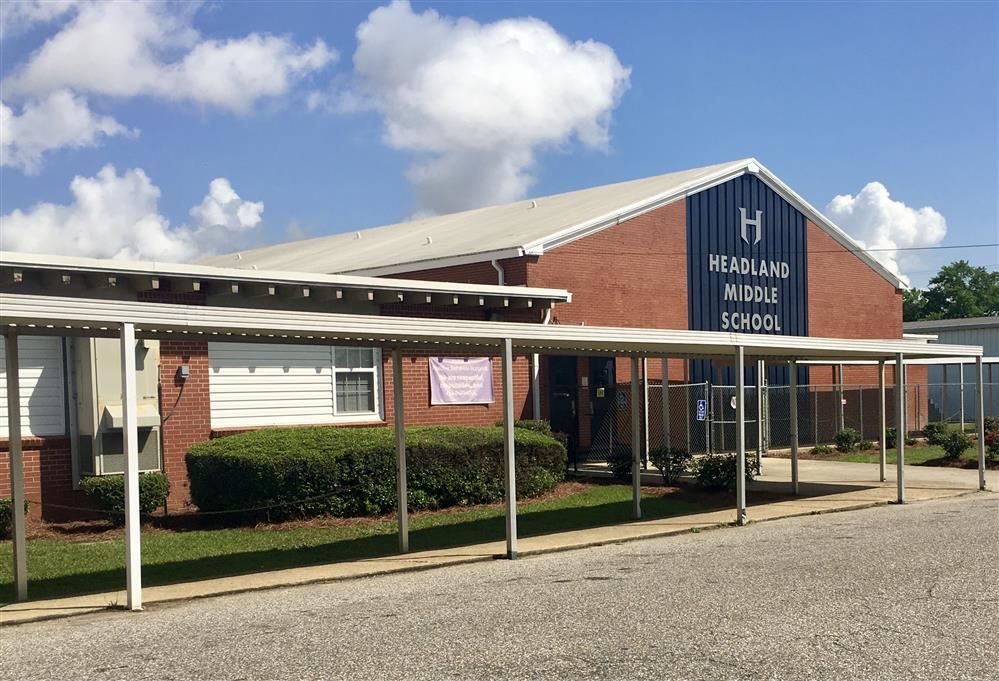 Headland Middle School Vision Statemment:

The vision of Headland Middle School is for each child to experience "success." We, at HMS, strive to provide a safe, child-centered learning environment where individual, developmental needs are met.
HMS Library Facebook page

9th Grade Remind and Facebook Page

8th Grade Remind and Facebook Page

7th Grade Remind and Facebook Page

6th Grade Remind and Facebook Page
CLICK HERE to check your student's INow Parent Portal

The STI InformationNOW Parent Portal is available to guardians. This tool allows guardians to view up-to-date information on their child's progress, grades, attendance, etc.

You must have a password (which changes every year) in order to access the website.
HMS will not be mailing this information to guardians.
Student will receive the attached form on September 29th. When students return the signed form to their homeroom teacher, the teacher will send the INow password home with your student.
Please follow the directions on the password form precisely to access your student's INow portal. If you have issues, please contact Mrs. Frank for help.

CLICK HERE to view or print the INow parent letter and form.
Contact Us

Phone: (334) 585-7083

Fax: (334) 585-7085
HMS Color Run Student Forms

Anonymous Tips for Student and Parents

Khan Academy Free Tutorials

Math Practice with Immediate Feedback
Announcements
Dress for Success Day will be held on Friday, May 21st. Please dress in professional business attire for the HMS Awards Day ceremonies. FBLA is sponsoring this event to encourage our students to dress to portray themselves in a professional manner. All clothing must meet school dress code requirements.

Help FBLA raise money for mothers and pre-mature babies by donating dimes, nickels, quarters, and dollars each day during homeroom for your favorite team. All grades will be participating from May 17-20, 2021. Donate in the Auburn or Alabama football bucket and let's see which team wins! All monies will be donated to March of Dimes.

We would like to thank everyone that helped decorate, donated snacks, and allowed us to borrow decorations, etc. for their efforts in making our 9th grade formal a success. It was a beautiful night under the Headland stars on our historic downtown square!

HMS and the 9th Grade Academy will hold our awards ceremonies on Friday, May 21st. These ceremonies will be virtual and parents will not be allowed to attend due to covid restrictions. However, they will be livestreamed on each of our grade level Facebook pages. Students receiving awards should have brought home an invitation explaining how to watch the ceremonies on Facebook and a permission slip for parents to sign and return allowing us to livestream your child. If your child does not return the permission slip or if parents check "NO", that child will receive his/her award and exit the gym before the live stream begins. If your child needs another permission slip, they can pick on up in the school office. Please contact the school office if you have any questions. The times are listed below:

8:00 am 6th grade

9:00 am 7th grade

9:45 am 8th grade

10:30 am 9th grade

Thank you to the Sunstop in Headland for providing all of our teachers with the tastiest fresh fruit for Teacher Appreciation Week. We had parents and community members and staff members bring treats for our staff all week long. We are so blessed with our parents and community members remembering us. Thank you to everyone that contributed to helping us have a great week.

Our staff celebrated Mrs. Saffold and Mr. Snell last week in honor of Principals' Day. We are blessed at HMS to have the best principal and assistant principal. Thank you both for all that you do for staff, students and parents!

We would like to thank Mrs. Saffold, Mr. Snell and our school PTO for the wonderful lunch they provided for us for Teacher Appreciation Week. We have the best PTO and school administration! Thank you all for making us feel special!

Our Relay for Life Student Talent Show will be held on May 7th, 2021. We will have two performance, with the first at 9 am and last at 1 pm. Due to our Covid 19 restrictions, parents will not be allowed to attend, however, we will be livestreaming both shows on the 8th grade Facebook page. A link to our 8th grade Facebook page is listed below:

8th Grade Facebook link:

FBLA for HMS recently received a $150 check from Wiregrass RC&D. The prize money was awarded as a result of the Wiregrass RISE Competition which was held at Landmark Park on Feb. 25. The contest encouraged local youth to come up with ideas that would solve a community need or address an issue that needs attention. The students presented their ideas and the business plans they created to accompany them to a panel of judges.

Preslie Ash (6th grader at Headland Middle School) and Makinley Warden (6th grader at Providence Christian School) were the regional middle school winners for the contest. They shared their idea to start Wiregrass Waymakers which would be an online platform for youth to promote and sell their products and services in a safe manner.

Pictured left to right are front row: Anna Cornelius, Wiregrass RC&D; Mike Snell, HMS Assistant Principal; Angerine Pope, FBLA Advisor and Business Instructor; Makinley Warden, student winner; Preslie Ash, student winner; Linda Saffold, HMS Principal; Nicki Ham Wiregrass RC&D; back row: Ronnie Davis, Wiregrass RC&D; Dexter Grimsley , AL House of Representative for 85th District.

The Wiregrass Resource Conservation and Development (WRC&D) Council serves the following Southeast Alabama counties: Barbour, Coffee, Covington, Crenshaw, Dale, Geneva, Henry, Houston, Pike and Russell. They provide valuable services to our community through a variety of projects and initiatives.

Congratulations to Meryl Adams on winning the Color Run T-shirt design contest. The t-shirts will be printed on a dark color like navy or black because we discovered last year that the color powder shows up really well on darker colors. The graphic will be printed in bright yellow or green. It will have a very 80's inspired look. T-shirt orders have also been extended to Monday, April 19th. That is the absolute last day to order a color run t-shirt.

HMS Relay for Life team is selling paper cupcakes in memory and honor of cancer patients. The cost is $1 and students can purchase them during homeroom each day. The homeroom that purchases the most will earn a donut party. All proceeds will benefit the American Cancer Society.

CLICK HERE to view or print the flyer about Pandemic EBT cards for families that qualify.

CLICK HERE to view a slide show about the HMS Color Run and how to raise money for school and get registed for the event!

We would like to congratulate Khloe Smith on winning our Henry County Schools' District Spelling Bee. Khloe is in 6th grade at Headland Middle School and we are so proud of her!

Congratulations to Ms. Jasmine Grubbs for being selected as the HMS Support Person of the Year. Ms. Grubbs is a always willing to do whatever is needed to make our school great! We are blessed to have her on our staff.

We would like to congratulate Justin Swasey for being selected as Headland Middle School and the 9th Grade Academy Teacher of the Year. Mr. Swasey teaches math at the 9th Grade Academy and he goes out of his way to make sure his students are learning and have access to any materials they need to be successful.

We would like to congratulate the winners of the HMS Spelling Bee. They are as follows: 1st Place Winner Khloe Smith, 2nd Place Reagan Trawick, 3rd Place Haley Leonard. Khloe will be representing HMS at the county Spelling Bee on Friday, February 12th at Abbeville High School.

Please help keep our schools safe as we strive to provide face to face instruction. It is imperative that if your child has been around someone who tested positive for Covid outside of school, you adhere to the quarantine procedures set forth by the AL Department of Public Health. It is a team effort to help keep our students well and educated! If you have any questions, please feel free to contact us!

If your student is sick or quarantined for an extended period of time, students should receive an email from their teachers via their school gmail account with directions and assignments. All students should know their gmail username and password and should be checking their email daily, if they have access to a device and internet. If they don't remember their username and password for school gmail, you can contact Mrs. Tew at HMS and she can provide that information. If your student doesn't have access to the internet or a device, please contact your student's teachers for assignments.

Join Dr. Newsome thorugh Google Meet for a presentation about our school system's Exceptional Services. See the picture above for the links and times to participate in this presentation.

Click above to view the slide show of the virtual Title 1 Parent Meeting.

INow passwords will be sent home with students this year. In order for your student to be allowed to bring home his or her INow password, the student MUST return the INow parent form letter. this letter will be sent home with students on Sept. 29th. It is also posted in the INow section of our homepage and at the bottom of this annoucement. If you wish to receive your student's INow password, please sign and return the form to your student's homeroom teacher.

CLICK HERE to view or print the INow parent letter form.

CLICK HERE to purchase an HMS yearbook for the 2020-2021 school year. They will be sold online only until Oct. 15th for $30. On Oct. 16th, the price will increase to $40, but you can purchase online and in person at the school starting on Oct. 16th.

CLICK HERE for great information that may answer parent questions about virtual learners and requirments, who to contact for issues, etc.

CLICK HERE to view the areas where our Henry County School buses will be parked Monday-Friday for students that need Wifi access.

Make sure when your child is absent...he/she must bring excuse upon return to school and turn in to Homeroom teacher. Your child also must ask teacher, when they get to that class, what their makeup work is. Thanks for your help at home!